Before you are a painter
you have to study,
learn the techniques, see
how the old masters did it. Look
with different eyes.
But then when your
start painting,
the trick is to forget
it all. Just hold
the brush and paint.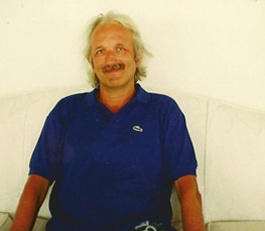 Curriculum Vitae
Peter Prins was born in the Netherlands in 1950 and has been a professional artist since 1974. He has two painting techniques: pastel and karnerellen. The latter, which is unique to him, is a watercolour technique with buttermilk and pigment. His style is abstract expressionism.
In 1992 he met the famous astrologer Carole Golder in Portugal where he was living and working since the eighties. He designed the covers of her books Star Signs and Success Through The Stars. He also did the illustrations for the books Your Stars At Work and Astrology. They moved first to France where he followed the footsteps of van Gogh for five months. After that they were living until 2001 in Massa-Lubrense Italy where he created al lot of paintings. Peter married Carole, his muse in London in 2000. Very sadly she passed away in 2002.
Carole and Peter have made many trips to the United States where he had several shows in New York. For years has was working in London with the Walton Gallery. You will find Peter's paintings in many private and corporative collections.
Peter has received a number of awards including the Artifort International Award and the Talens Award.
Kinderpostzegels, the Romanian Appeal and Minolta have all commissioned Peter's work to be featured on their Christmas cards.
Peter donated some of his works to different international charities.